Muckhart Primary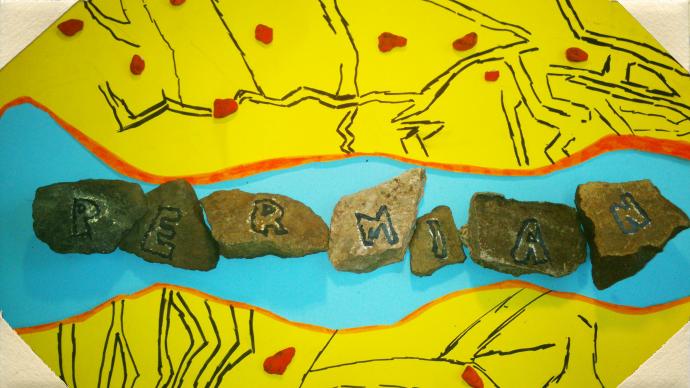 In 2014 Muckhart P3/4s took part in Forest School sessions, which were extremely varied in scope.
Sessions included playing games to enhance knowledge of the woodland and appreciation of boundaries, and we did mini-beast hunts to learn more about the wee creatures who live there. We did shelter building, during which we learned how to use loppers and bow saws. We also created music by making woodland xylophones and playing Forest School X-Factor!
Click below to see The Forest School, the animation made by the class!
In 2013 Muckhart Primary 5/6/7s explored 'The formation of the Ochil Hills'.
The class learned that the initial formation of what are now the Ochil Hills began 400 million years ago during the Devonian Period also known as the 'Age of the Fishes'. During this time the class learned about the Ochils Fault and that lava and fast moving hot gases and rock flowed along the Ochils Fault. Pupils learned about the Carboniferous Period, when the equator passed through Muckhart and the land was covered in rainforests of giant mosses. The class learned that the force of underground magma created the hills. To illustrate the formation of the Ochil Hills the class created their own volcanic eruptions at Muckhart Nature Park to observe lava flow.
The class also learned about the Rock Cycle, the three main types of rocks and that the Ochils themselves are made of lavas, conglomerate and sandstone rocks. Pupils learned that erosion has a large part to play in the Rock Cycle and made their own weathering experiment with clay to demonstrate the freeze/thaw cycle.
The class then became mini geologists by hunting, sorting and identifying igneous, sedimentary and metamorphic rock at Muckhart Nature Park.
Click below to see It's Time to Face the Ochils, the animation made by the class!